Why Anthropology?
Anthropologists study the entire breadth of human experience from our ancient origins to our connected, global present. We take a scientific approach to understanding human cross-cultural diversity and biological variation grounded in ecological and evolutionary theory. The BA in anthropology allows students the flexibility to pursue interests, and gain theoretical and methodological experience and expertise in a variety of anthropological and related disciplines. Graduates with a BA in Anthropology have marketable skills preparing them for many careers such as developing and implementing policy through government agencies and non-governmental organizations and nonprofit entities, teaching at a variety of levels of education, public or private museum and laboratory research positions, as well as careers in archaeology, cultural resource management, tech and social media, conservation, and health care fields.
A major in anthropology can also help students achieve success in pursuing graduate level degrees in a variety of disciplines, or pursue advanced degrees in business, education, law, public health, data science, or medicine. Non-majors in our courses gain valuable perspective and can fill many of their general education requirements (Biological Science, Behavioral Science, Social Science, Humanities, Diversity Intensive, Writing Intensive).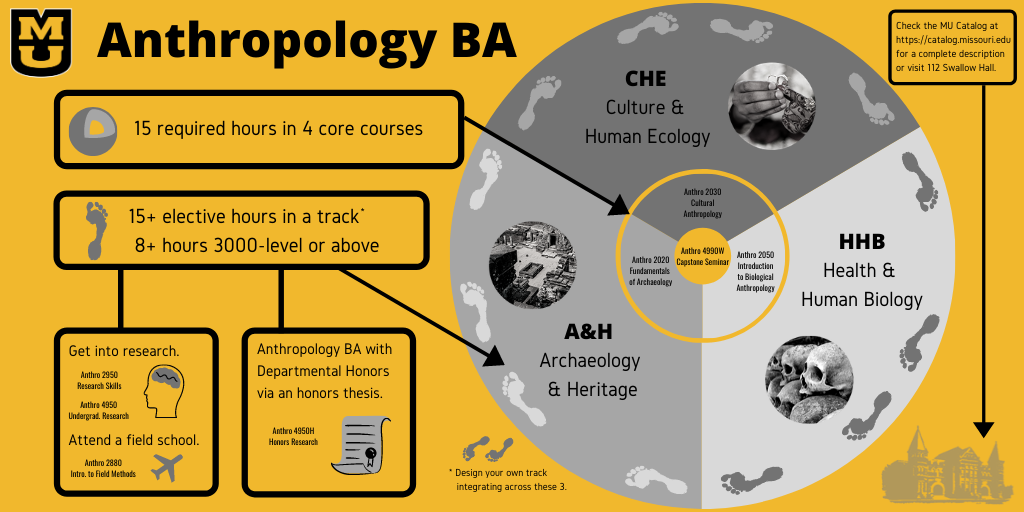 Field School

Looking for a Summer Field School to attend, the Department of Anthropology gets flyers daily from different Field Schools across the globe. Please stop by the Anthropology office for more information. Field experiences are also available through MU Study Abroad.
Get Involved!
Anthropology Students Association
Join the Anthropology Students Association (ASA)!  ASA is an organization for both undergraduate and graduate anthropology students, as well as anyone with an interest in anthropology at the University of Missouri. We are committed to fostering a supportive environment of peers and encouraging academic progress for anthropology students. We meet regularly to discuss a variety of topics, attend lectures, take field trips, assist and attend department events and have fun exploring anthropology. For more information email ASA Faculty Rep. Sean Prall (sprall@missouri.edu).